I'm impressed with Neil Gaiman's powers of recall. The introductions in this book have him remember where he was, what age and who he was with when he first encountered writers or first read their work.
I don't remember how I came across Neil Gaiman's work but I'm going to say that it was Good Omens, which he wrote with the late Terry Pratchett which was published in 1990, but I doubt I read it that early. I definitely remember reading Sandman in 1997 for the first time – yeah very late I know – because I remember where I was living at the time and getting them out of the library a short walk from there. I remember watching Neverwhere on TV, which was apparently 1996. And both of those things I was led to by Good Omens.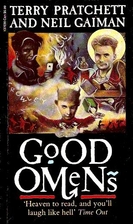 I also remember going to a signing in Bath on the Anansi Boys tour and wondering where the crowds were – this was Neil Gaiman, surely the line would be around the block? It seemed not, I joined a small crowd, what seemed like twenty or thirty people in Waterstones Bath and wondered why there weren't more people there.
I ran a virtual reading group on the website Librarything for a group read of Sandman from start to finish. Lots of people wanted to take part in that because Sandman is such a stand out work in comics.
The next time I went to a signing in Bath, for The Ocean at the End of the Lane, I queued for so long I finished reading the book in the queue. I know other folks that were there for much longer than me too. There were a LOT of people at that signing. It was, until this book, the last thing I'd read of Neil's. Incidentally, there is a short film about that signing tour (Thanks to Cavan Scott for pointing that one out) here:
I've seen Neil variously at signings and conventions and book festivals and on online videos and his voice has got inside my head.
This is a bit of a problem when reading his books – as my internal voice is Neil's voice, narrating. Some people may see that as a good thing, but it's really rather distracting.
His voice has got inside my head in other ways too. When I was writing for a roleplaying company I riffed off the idea of the "house without doors" in an interdimensional maintenance area powered by stories as an overlay to the main world of the RPG. There was a little bit of Time Bandits in there as well, in that if you could influence the stories in the right way you could travel from one place to another exceedingly fast. I may very well revisit that whole concept in a novel in the future.
When it became time to stop writing for the RPG I started writing short stories and, eventually, novels. And Neil's voice was obviously still whispering away in the back of my brain. There were conscious riffs – Neil himself riffed off John Fowles's Mantissa (trapping a muse in the Sandman story Calliope) and I riffed off both of them in my story – Le Sacre du Printemps (published in A Tiding of Magpies).
When Paul Cornell ** wrote of me, in the introduction to A Tiding of Magpies,  "He reminds me a bit of Neil Gaiman, in that he enjoys the business of story itself, and shares that enjoyment with the reader rather than hiding secret references." I was extremely flattered. I was even more flattered when I read Paul's Shadow Police novel in which he turned Neil Gaiman into a character! He must also have Neil's voice in his head…
And that's the key to Neil's success I think. That he loves stories. Here he is in a late essay in this collection, an introduction to Anthony Martignetti's book Beloved Demons:
"We both had a fascination with, and a delight in, stories. Do not give either of us gifts; give us the tale that accompanies the gift. That is what makes the gift worth having… The joys of the gifts are in the stories."
And in this collection of his writings, on subjects as diverse as the Oscars, Syria and libraries, the core engine that drives each of them is story.
And so to come full circle (perhaps) the essay that ends this collection is the introduction to Terry Pratchett's A Slip of the Keyboard (itself a beautiful collection, and one that made me think I had something in my eye in the last section of it).
But don't let me tell you about it. Let Neil's voice get inside your head too. Here is the full reading he did of his introduction on the BBC
I would say that this book is for Neil's hardcore fans or fellow writers but once his voice is inside your head, once you love stories too, you'll definitely be the former, and probably will want to be the latter.
*The title essay is about Neil's attending the Oscar's – for some of us we'd be lucky to be anywhere within several miles of the "cheap seats"!
**By the way, I do remember where and when I met Paul Cornell. It was at Emma Newman's Forbidden planet launch for Between Two Thorns.